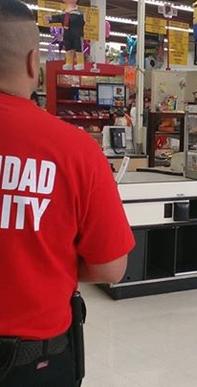 Areas Of Application But Not Limited To:
■ Banks/Financial Institutions
■ Retail/Department Stores
■ Grocery Stores
■ Events
■ Malls
With our experience and qualified team we will be your castle guards and your second pair of eyes.
Seguridad Security's loss prevention team focuses on business continuity strategies that will allow normal day to day businesses to be maintained in the event of a business disruption or crisis.
We take many counter measures to secure property, assets, monetary, reserves, stock, as-well as strategies to ensure safety and economic welfare.
The techniques our company uses in loss prevention are; physical examination of premises, Identifying Vulnerabilities, Evaluating Root Cause, Determining probability/ Frequency for internal or external risks and observing human behaviors and patterns.
Our protocols include perimeter security and intrusion prevention to ward off incidents such as; Robbery, Burglary, Theft, Vandalism, Arson, and unauthorized use of premises.
To prevent incidents from occurring we use Risk Management Tools & Procedures of Control:
■ Visual & physical security
■ Floor Maps
■ Communication systems
■ Activity Logs/ Record Keeping
■ Routine Patrol
■ Analyzing trends at store -Offsite region observation
■ Inspections
■ Alarm System/ Surveillance
■ Camera Systems
■ Locks
■ Special Assignments
■ Detaining violators